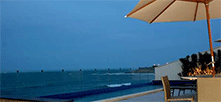 'Unique Oceanfront Villa'

Luxurios oceanfront Mansion with two bungalows in Brazil. Infinity pool with deck 12 m from the beach and a 21m2 Solarium. Parking for 12 cars and lush garden with Zen water fountains and waterfall. It also has a deck with full gourmet cook top, grill, pizza oven and lounge/dinning space. A Games room and 2 bathrooms (Mens/Womens). THIS HOUSE WAS AWARDED ONE OF TOP 5 HOUSES (CASA) OF CEARA IN 2008. $599,900 USD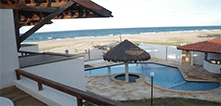 'Taiba Oceanfront Town Houses'

Oceanfront Town House for sale inside a small fourteen Townhome condominium. 2 Bedrooms, one bathroom over two floors. Jacuzzi, Pool and BBQ areas, 24 hour security 30 meters from clear blue ocean!. Starting at $105,900 USD.